Emma Newman bravely shares her son William's story;
When I went into spontaneous labour at 24 weeks + 2 days, I can honestly say it was the most terrifying experience of my life. While in labour we were told our son had a 45% chance of survival. Everything was done to try to slow my labour down. However, our little boy was born the very next morning, weighing 870g. I was rushed into theatre and my little boy was rushed off to the neonatal intensive care unit at St. George's Hospital.
When I was finally able to go down to see my little William, it was all very overwhelming; there was so much talk of different medicines, light therapy, infections, possible future complications, brain bleeds, PDAs (just to name a few) and the beeping machines were so loud!  I was so scared to even touch my tiny little boy, he looked so fragile and swollen from birth and had so many wires and tubes attached to him. I couldn't help but break down and feel like I failed him. The feeling of emptiness was really powerful, as in my mind I should have still had my baby safe inside me.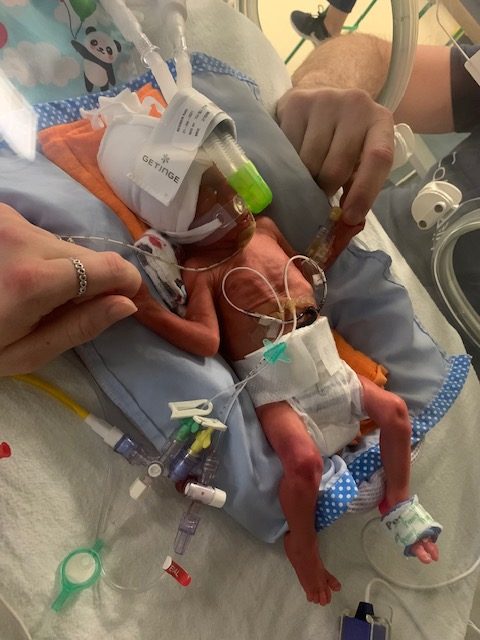 The journey to follow was intense, we had the most scariest days and the most incredible days too; to watch such a tiny little human be such a strong and incredible inspiration will stay with us forever. But it certainly was an emotional rollercoaster. The only thing I could truly do for my little William was pump milk for him every two hours. Skin-to-skin cuddles were the most incredible moments too, however, they were also a little scary when he got a little too comfortable and forgot to breathe.
The consultants and the nurses were just the most INCREDIBLE people we could ever meet, to have that level of care for our little one was just second to none. The support we had from Bobbie, the Family Coordinator, and from First Touch charity, kept us a little bit sane on those really rough days and kept us feeling like a mummy and daddy, as some days I remember feeling disconnected from myself and completely emotionally overwhelmed.
The trauma of going through a NICU journey will be something that stays with you forever and unless you go through it you could never truly understand the effects it has on your family moving forward. However, it certainly gives you a real appreciation for life, for these incredible little preemies and for the doctors and nurses who give their expertise and excellence to save them.
I will forever be thankful for St George's Hospital, not only for saving my little boy over and over but for the support they gave us too. Additionally, the support from the other parents in the unit is something you will never forget, to have people going through the same/similar things and to be able to lean on each other certainly gets you through the whole journey.
Emma Newman, William's mummy